Twitter: Instant Webcasts
The quotes above revealed both sides of Twitter, a popular social network, started in 2006; it indicates the bright side of its messaging capability, even as it carries the risk of allegations of misuse. Over half a billion people use it worldwide, with over 200 million being active users (as of 2013). This has grown to 300 million active users as of 2016. Twitter enables users to send tweets, which are short messages online, limited to 140 characters. According to Intel, 400 million tweets are sent out every day.
Let us see the dramatic way in which Twitter can make a difference in the daily life of people. Twitter is best remembered for its role in times of crisis. Tweets were useful in finding information about missing persons and relief works in Uttarakhand, after it was hit by flash floods in 2013. The bomb blasts in Mumbai in July 2011 triggered offers of help on Twitter. The responses were timely and played a critical role as mobile phones were hardly working.
A software engineer in Bokaro, Ajay Kumar, set up a disaster-tracking map online. He sorted out the tweets which numbered 2000 an hour at one point. Nitin Sagar in New Delhi gave details of those who made offers of lifts, food and shelter as well as information on those missing or injured. Live traffic updates and reports on taxi service and control room numbers were made available on the screen within minutes.
Online help was also offered during floods in Mumbai. Of course the service first reached those who were online, but the ripple effect reached far and wide. In Japan, following the earthquake and devastating tsunami in 2011, Twitter was quicker than the mainstream media in giving latest information and updates on rescue and help.
Twitter was ahead of a seismic wave in 2011. A user in New York experienced the seismic wave following a mild tremor, 15 seconds after he saw a Twitter message from Washington D.C. broadcasting that a wave had struck the capital.
It is claimed that Twitter is available to everyone round the clock. In the first half of 2012, it was open to all for about 23 hours, 59 minutes and 40-odd seconds. Even when it is not accessible for all, mobile sites were working. A day before the London Olympics started, part of Twitter became inaccessible for a while, due to simultaneous failure of its data centres.
London Olympics
The 2012 London Olympics has been described as the first truly social media Olympics. Twitter set a new record. It was reported that more than 160 million tweets were posted during the 16-day events. Usain Bolt, the Jamaican sprint king, inspired a record of 80,000 tweets per minute when he hit gold in the 200m race, followed by over 71,000 messages a minute for the 100m triumph. The Rio Olympics set another new record.
The opening ceremony alone triggered 9.88 million tweets, more than the entire number of such messages sent throughout the Beijing Olympics 2008. Indian participants, especially the medal winners, Sushil Kumar, Vijay Kumar, Saina Nehwal, Mary Kom, Gagan Narang and Yogeshwar Dutt, figured prominently in tweets and other social media.
Twitter Revolution in Egypt
Elsewhere, popular uprising in Egypt against the oppressive regime of Mubarak was described as a tweeter revolution. The Egyptians were able to exchange tweeter messages on the uprising even when the Internet was censored. The general public in Cairo was inspired by a Tunisian blogger, Slim Amamou, who revealed his location in jail to a global web of support by using Foursquare, another social network, thus igniting the so-called Jasmine Revolution. In Morocco and Yemen too, Twitter and other social networks helped the younger generation sustain the momentum of the 'Arab Spring' towards democracy.
In Iran Twitter was used to disseminate information during State crackdown on mobile phones. At one time, the US States Department asked Twitter to postpone its scheduled maintenance in Iran to allow its use by protesters. In 2013, when the elected President of Egypt was ousted by the Army, rival demonstrators converged in Cairo, and Twitter introduced automatic translation of tweets in Arabic into English, making it easier for the world to follow what was going on.
In India, Twitter, Facebook and Google have been used in support of agitations and campaigns against corruption and atrocities against women. Many politicians use Twitter to carry on a war of words.
The Election Commission of India has issued instructions to political parties and candidates on utilizing the Internet and social media websites for poll campaigns and advertisements. The Commission has started the model code of conduct is applicable to social media sites.
Twitter hit the headlines worldwide shortly after 'Operation Bin Laden' by the American forces. A lone software expert, Sohaib Athar who was near a house in Abbotabad (Pakistan), where Bin Laden was killed, unintentionally tweeted to report on the movement of a helicopter without knowing what it was all about. As the news of operation that killed Bin Laden spread, Twitter saw one of the highest sustained flood of posts, an average of 3440 a second. Within two hours, more than five million people mentioned Bin Laden in their tweets.
Nearly a year later, US researchers analysed more than six lakh tweets sent over two hours prior to the first rumour about Bin Laden's death. It was found that about 50 per cent of the Twitter users then were convinced that the news was true, even before it was confirmed on television 21 minutes later. Opinion leaders and celebrities played a key role in lending authenticity to the news. It has since been found that the first person to break the news of Bin Laden's death was Keith Urbahn, who had worked with a former US Defence Secretary. Keith sent his tweet at 10.24 p.m. and it was only after 8 min that CBS tweeted its confirmation.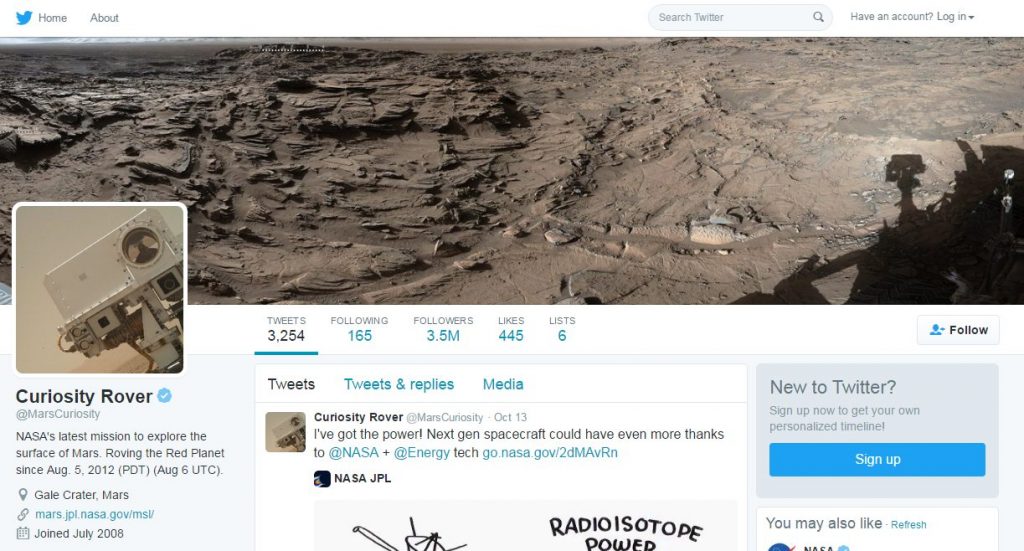 Tweet from Mars
The most dramatic tweet came from Mars when NASA's probe, Curiosity, touched down on the Red planet (2012) and radioed, "I am safely on the surface"! The first message from Mars (on 5 August 2012) was retweeted more than 72,000 times. The hashtag #Curiosity has become the fifth most used on Google Plus.
On an earlier occasion, a NASA astronaut T. J. Creamer posted a tweet from the International Space Station (ISS) to the world. Later in the year (2012), Sunita Williams, Commander of the ISS Expedition 33, used a laptop to send commands to a robot on Earth using the Disruption Tolerant Networking (DTN). It proved that neither solar storm nor any obstruction like a planet can delay communication between a spacecraft and ground control.
What is this Twitter, you may wonder. It is simply an instant message, web-based, not exceeding 140 characters. It was created by Jack Dorsey, a young American software designer in March 2006. It was launched as a company by Evan Williams and Biz Stone in July that year.
Twitter started off with messages of personal minutiae, which are mostly of no consequence (e.g. I had eggs for breakfast today). Tweets became popular by broadcasting one's trivial thoughts, inane ramblings, blogs, and opinions about latest gadgets, films, books, and politics, besides outright gossip. Twitter can include a link to another site or to a photo or video and you can report other user's messages and upload photos from a long list of other sites which carry the 'post to twitter' option.
As a British court observed, a tweet can be expressions of opinion, assertion of a fact, gossip, jokes, and descriptions of what the user is or has been doing, or where he/she has been or intends to go. For some users, twitter represents no more or no less than 'conversation without speech, mixing spontaneous speech with the permanence of writing'.